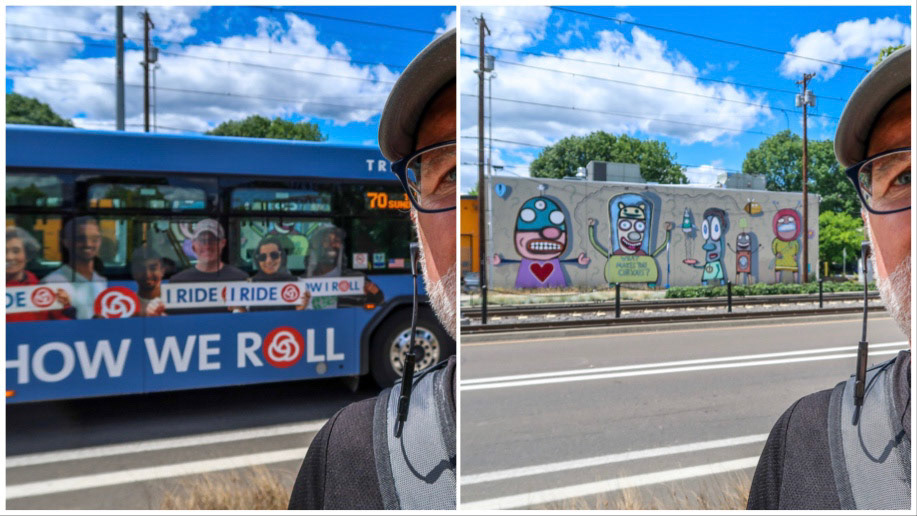 My Journey on Foot (so far)
"All that is gold does not glitter, Not all those who wander are lost; The old that is strong does not wither, Deep roots are not reached by the frost." The Fellowship of the Ring

, J.R.R. Tolkien, 1954
— Exploring Alaska on Foot —
One year after
the poem above was published, I
was born in the Territory of Alaska. I spent my youth and years as a young adult exploring Alaska on foot — wearing cross-country running shoes, cross-country skis, hiking boots, snowshoes, and crampons. Alaska was and will always be a special place to me. 25 years of wonderful memories.
— Exploring Oregon by Bicycle —
My interest in bicycling started in earnest in 1973, when a good friend from Alaska and I completed a month-long bicycle trip from Calgary to Seattle. In 1980, after I moved to Oregon, I got back in the saddle and explored Portland, Corvallis and Eugene by bicycle. I continued riding for the next 30 years. I fondly remember going on many group rides and taking trips with my family and friends. 
— Commuting by Bicycle in Portland —
In 2000, I started commuting year-round by bicycle to my workplace in downtown Portland. My 10-mile round-trip ride, which I did for 10 years, was the perfect way to start and finish each work day.
— Commuting on Foot in Portland —
In 2010, when I started working at a new job closer to home, I switched gears and began walking year-round to and from work. My five-mile round-trip work walks soon led to extended weekend walks and thousands of miles and photos of sights I saw along the way.
— Advocating for Pedestrians —
My work walks also led to volunteer activities with Lloyd TMA (Go Lloyd), Willamette Pedestrian Coalition (Oregon Walks) and the City of Portland (Ten-Toe Express, Sunday Parkways). In 2019, with retirement on the horizon, I plan to step up my volunteer activities.
— Supporting Public & Active Transportation —
Today, I typically commute to work by bus. I am a strong proponent of public transportation and all modes of active transportation. Thanks to TriMet, our regional transit agency, I am able to take public transit to and/or from my walks. Since 2010, I have only driven to two walks. I currently oppose ODOT's proposed expansion of I-5 in the Rose Quarter.
— @WalksInPortland / @PNWPhotoWalks —
From 2010 to 2018, I was active on social media as @WalksInPortland. I enjoyed engaging family and friends (real and virtual) on Facebook, Instagram and Twitter.
Now, I am only posting photos here and on Flickr. If my spouse and I remain in Portland, I might resurrect @WalksInPortland. Meanwhile, I am now posting as @PNWPhotoWalks to recognize the other Pacific Northwest communities that I am exploring on foot.
I respect people's privacy, so I try to not capture personally identifiable information. Although I do not geotag my photos, I do capture signs and signposts along my routes for general orientation.
— My Digital Photo Gear —
I walk long distances, in all weather, so I like to carry light gear. I currently use a Canon PowerShot G7 X Mark II. It is lightweight, has a small form factor, and has good optics. In hard rains it can be challenging to keep dry though, so I still use my smartphone now and then. My earlier digital cameras included several iPhones, a Panasonic DMC-TZ5, and a Canon PowerShot S100.
I am also of the film generation. In the early-80's, I used an Olympus XA 35mm on my backpacking and mountaineering trips in Alaska. It was one of my favorite cameras, in part because of the many fond memories associated with it — my spouse, my friends, our back-country trips, and our bring-your-own-slides shows. It was a different age and type of social media experience.
I also have a Konica 35mm with a 70-210mm telephoto lens. It was a college gift from my mom. I used it on a six-month around-the-country trip in 1979, when I finally left Alaska to see the "Lower 48."
In closing, I encourage you to wander and I invite you to take a journey through my photos. I hope our paths will cross in the future.